Celebrating the Inaugural FEASTIVAL Falls Creek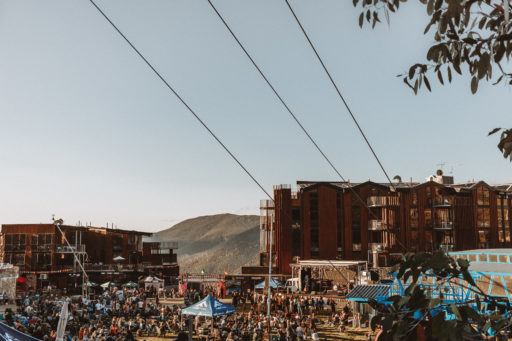 The inaugural FEASTIVAL Falls Creek took place over the weekend with a massive line-up of music,
art, comedy and food that captivated all our visitors. After two years of unforeseeable adversity, Falls
Creek Resort Management was overjoyed to have been able to welcome a large number of guests
safely into the resort to share in a festival of fun and entertainment.
Over 1800 ticket holders attended Saturday's Feast de Resistance – an evening of live music where
Falls Creek's Slalom Plaza was transformed into a welcoming FEASTIVAL of live music, street food
and entertainment. Audiences danced to Boy and Bear, local artists The Northern Folk, and Triple J's
Unearthed winner, Liv Cartledge, also joined by many more wonderful musicians throughout the
afternoon. FEASTIVAL Falls Creek goers were also treated to tricks from the Flying Fruit Fly Circus,
and out-scienced by Dr Karl, and kids were kept crazy-busy with The Connected Circus creating a Kids
Space in the plaza.
A selection of bespoke bar and dining experiences were also part of the festivities. Guests laughed with
comedians like Zoe Coombs Marr, Dave Thornton and Lloyd Langton at the Comedy Night in Frying
Pan Inn and broadened their minds at the Art Exhibition. Astra Falls Creek provided a sumptuous four
course meal accompanied by the Melbourne Chamber Orchestra's sextet – a once-in-a-life-time musical experience for all who attended.
The Makers' Markets provided visitors the opportunity to take home some creations from some of the
regions talented maker's, from jewelry to ceramics, natural skin care, and fine produce. Kids and
grown-ups were calmed by free yoga and pilates sessions and were treated to the magic of the night
sky with the Astronomic Society of Victoria.
Stuart Smythe, CEO of Falls Creek Resort Management, said, "This weekend's event, FEASTIVAL,
has been a stunning success and a long overdue opportunity for the resort, its community and the
local region to come together over music, art, comedy, science and food.
"The resort was buzzing, with events for everyone and a phenomenal line up of acts across multiple
venues in the resort, bringing much needed visitation back to the mountain and the region.
"We are grateful for the support of the Victorian and Commonwealth governments through the Alpine
Business Support grant program to be able host such an event, in Australia's premier Alpine Village."
James Eggleston, Events Coordinator for Falls Creek Resort Management, said, "We were so excited
to bring a brand-new event to Falls Creek and North East Victoria. There have been a lot of parallels
between the creative arts industry and the alpine resorts suffering from pandemic closures the past
two years. We wanted to marry the two for a weekend of a variety of unique events in an incredible
environment. It was fantastic to see it come together over the weekend.
"We have an incredible team with some fantastic support from our local stakeholders, and we were
able to pull together 13 different events across eight different venues as part of FEASTIVAL Falls
Creek.
"With one eye looking back to reflect and learn from our inaugural festival, the other eye is now
looking forward to create and present an even bigger and better FEASTIVAL Falls Creek 2023."
FEASTIVAL Falls Creek will be returning once again in 2023 – keep your diaries clear and we'll see you
in Falls Creek in summer 2023!