Falls Creek is home to a range of world class terrain parks, built for everyone from beginners to elite pros. Our park crew take pride in the parks, making us one of Australia's top destinations for freeride, freestyle and slopestyle.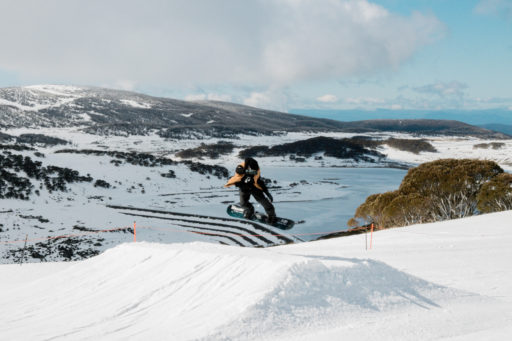 Drovers Fun Boxes (Rated Small)
As soon as the snow starts to accumulate the Park Crew get to work in creating some fun features for the eager jibbers hitting the slopes. The slope just below the Drovers Chairlift unload is often the first place to see some action with a series of small rails and funboxes set up to tide the riders over until snow levels reach the right depth to get the bigger parks up and running. 
The Fox Trail line is a longtime favourite for little rippers and is just perfect for kids learning to ski and snowboard. Fox Trail's naturally forming rollercoasters, berms and jumps have been further enhanced to create the ultimate terrain playground for kids. Mini igloos and other colourful interactive snow features add to the fun! Watch out for Pete the Snow Dragon as he cruises the resort this season… Fox Trail is his favourite run!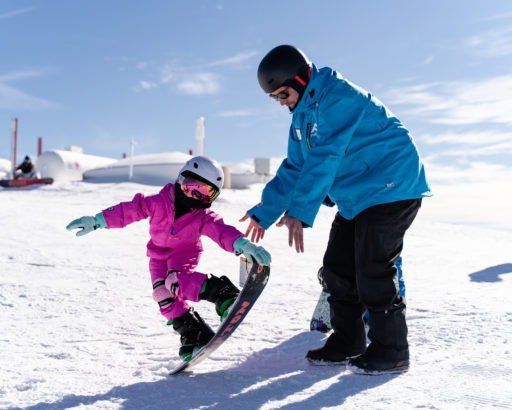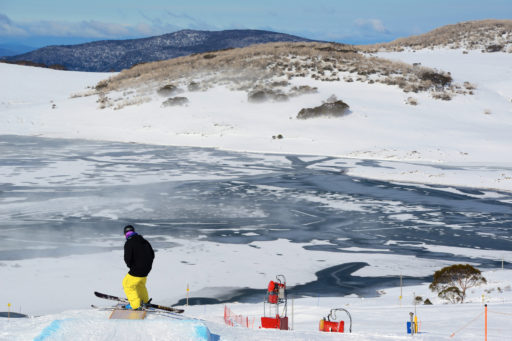 Panorama Park (Rated Small - Medium)
Formerly known as the Drovers Park, Panorama is the perfect place to learn park riding and progress your skills on a large range of small and medium sized features. As the name implies, the park has a fantastic panorama view over Rocky Valley Lake (making for some awesome pics). It's also located not far from Cloud 9 and the Halley's Comet unload. Panorama features both introductory and intermediate lines but riders can pick and choose what to hit along the way. 
Castle Terrain Park (Rated Large)
The Ruined Castle Park is a definite step up to your riding. Head to skier's right of the Ruined Castle chair for the advanced park line with mid to large jumps and more difficult features. Long flow lines of hits and narrow rails cater to the most discerning freerider against a killer soundtrack through the park's own stereo system.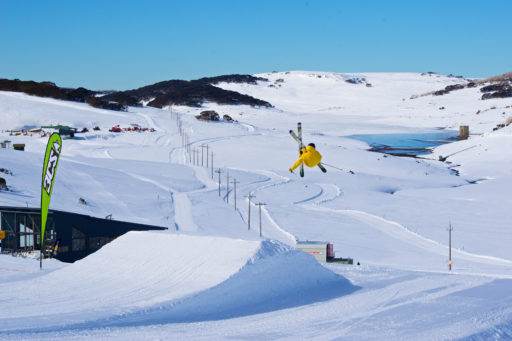 Castle Terrain Park (Rated Extra Large)
The big daddy of terrain parks, the expert line on skier's left of the Ruined Castle Park takes riders through seriously massive hits, long rails and big gaps. Park favourites include the massive Rainbow Rail and giant booters. This is the site of Falls Creek's Storm the Castle and sees some truly enormous features incorporated into its setup. 
Shred with the best in the Falls Freestyle Series - 5 killer ski and snowboard events across the span of the season. Featuring Rail Jam, Ski/Boarder Cross, Slopestyle and Big Air, the series is an epic spectator event with top skiers and riders from Australia and abroad.
Terrain Parks Terms & Conditions
Whether at the Park or at the dinner table - bad manners are bad manners. To make sure everybody using the park has a good time it's important that riders exercise appropriate park etiquette. Ride like a fool and you're bound to upset other riders. 
The Freestyle Terrain Snow Park Etiquette provides basic information to all users entering and/or using terrain park facilities. This contains important safety points on how everyone conducts themselves when in the Terrain Park area. 
For your own safety and enjoyment and the safety and enjoyment of other Park users, follow the park etiquette outlined below: 
Read & follow all park signs & warnings

 

Use features suitable to your ability & skill level

 

Start out with the smaller features and work your way up

 

Inspect the features before jumping

 

When inspecting or instructing in the park, be sure that you are out of the way of other users

 

Don't stop on the tops of jumps

 

Move off the landing zones of the jumps quickly

 

Use others as spotters if the landing zone is not visible from above

 

Use visual signs (eg: crossed arms above head - NOT CLEAR & one arm wave - CLEAR)

 

Call for priority when waiting for your turn to use a feature (eg: "NEXT", "ON DECK" or DROPPING IN")

 

Speed judgment is important to landing in the "sweet spot" on a jump. Watch others, get advice or take lessons.

 
Remember, it is always your responsibility to ride or ski within your limits. Don't end your season early by trying tricks or features that are beyond your ability. The Alpine Responsibility Code outlines the 'rules of the road' for the slopes. You are accountable for your actions and violations. Play smart and safe 
Know your ability and always stay in control and be able to stop and avoid other people or objects. It is your responsibility to stay in control on the ground and in the air.

 

Take lessons from qualified professional instructors, to learn and progress.

 

As you proceed downhill or overtake another person, you must avoid the people below and beside you.

 

Do not stop where you obstruct a trail or run, or are not visible from above.

 

When entering a trail or run or starting downhill, look uphill and give way to others.

 

When riding a chairlifts use the restraining devices. Always use suitable restraints to prevent runaway skiing/boarding equipment. Ensure your equipment is in good condition.

 

Observe and obey all signs and warnings. Keep off closed trails or runs and out of closed areas.

 

Before using any lift you must have the knowledge and ability to load, ride and unload safely.

 

Do not ski, snowboard, ride a lift or undertake any other alpine activity if your ability is impaired by drugs or alcohol.

 

If you are involved in, or witness an accident, alert Ski Patrol, remain at the scene and identify yourself to the Ski Patrol.

 
Failure to observe the Alpine Responsibility Code may result in cancellation of your ticket by the Ski Patrol or other authorised personnel. 
If you are coming to Falls Creek and planning to make a film or take photos for commercial purposes, please take the time to read our 'Guidelines for Filming at Falls Creek' and get in touch with our marketing team to let us know your plans. We will do our best to help you in any way that we can and make sure your media project is a success. Follow the link below for further information and our contact details. 
Sign up for our newsletter
Want to hear the latest news and what's on at Falls Creek?
Sign up to our email newsletter and you won't miss a thing.