Getting Around the Village
Everything at Falls Creek is within walking distance. Walking the roads of the village during summer is a great way to get some exercise and fresh air whilst getting to know the lodges, cafes and hidden gems.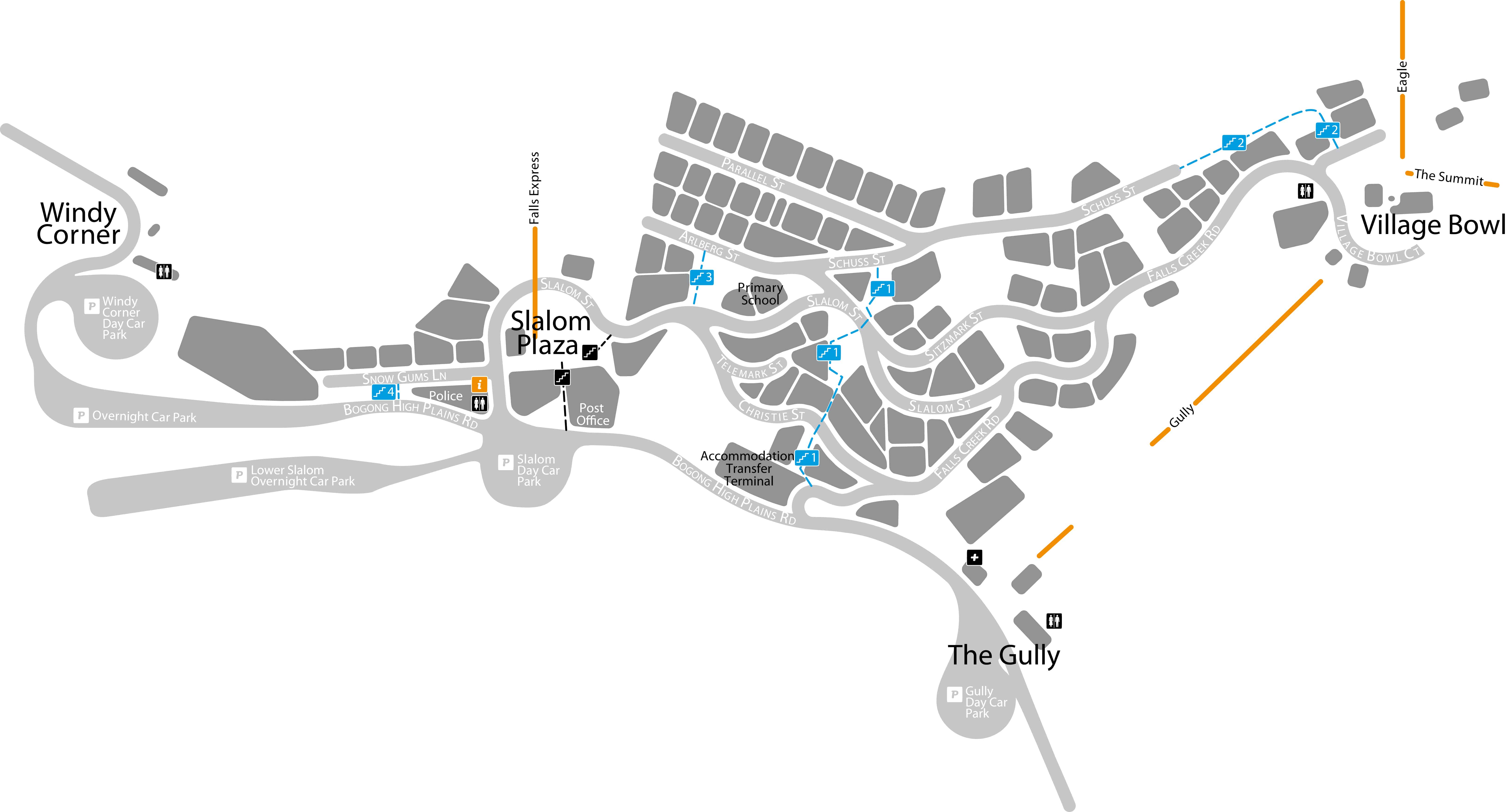 To help you get around, there are some convenient walkways that link the roads.
1. ATS to Schuss Street – Steel walkway with light handrails allows you to walk from the main road (BHP road) to the top road (Parallel street). This walkway takes you up the middle of the village and takes you past/close to multiple restaurants (the Man, Elk at Falls, Apartment 13, Nelse, Huski, Astra, Milch).  
2. Schuss to Village Bowl – steel and wooden walkway, this staircase allows quick access from the top roads to the village bowl. Access is from behind the Falls Creek Hotel and brings you close to the bottom of Eagle Chair. This is also the quickest way to get up to restaurants on Parallel and Schuss street if you are staying in the Village Bowl.  
3. Slalom Street to Arlberg Street – Steel walkway with light handrails allows you to walk from Slalom Plaza up to Arlberg Street, giving you quicker access to the top roads and Attunga Lodge. 
4. Bogong High Plains Road to Snowgums – steel walkway this staircase is the easier way to get from the Windy Corner carpark to the Halleys Comet lift line. Skip the main road and head straight up the stairs to the snow covered road.  
Falls Creek's free village shuttle service operates daily during the declared snow season.
Sign up for our newsletter
Want to hear the latest news and what's on at Falls Creek?
Sign up to our email newsletter and you won't miss a thing.