Cool blue waters on a hot summer's day – there's no better way to relax and enjoy an escape to the country.
Rocky Valley Lake is the jewel of the high country, 250 hectares of crystal clear water waiting to be explored! Head to the foreshore area (just before the dam wall) for grassy banks, picnic spots and a safe entry point to paddle or swim. The water is cool all summer-long, the perfect temperature for those scorching summer days!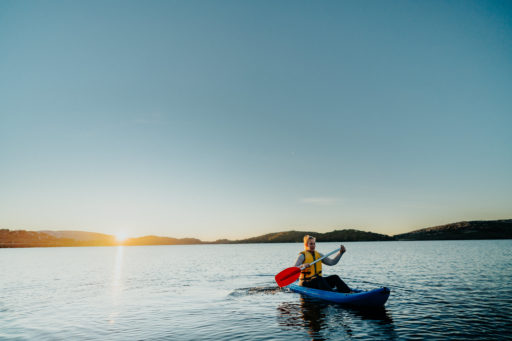 Kayaking is one of the most popular forms of water recreation at Falls Creek and gives great options to explore the farther banks and shorelines. Make sure you bring your lifejacket or PFD – there are no lifesaving services and the lake becomes deep once you venture out.
New for 2020 kayaks, paddle boards and more are available at the Rocky Valley Lake foreshore from Peak Adventure. Choose from one of their amazing pre booked sessions with family fun, adventure paddles or an idyllic sunset tour available. All training and equipment is provided. To make a reservation contact Peak Adventures on 0409 786 237 / email [email protected] or click the link below for more information.
Rocky Valley Lake is abundant with brown and rainbow trout, and you might get lucky to find a chinook salmon or two. The best fishing is by boating to the middle of the lake, but you can definitely get a nibble or two from the shoreline. Fly fishing is best at the close-by Pretty Valley Lake, found driving or riding Pretty Valley Road toward Mt McKay.
Fishing licenses are a must, which you can purchase easily online. Rental rods are available also from the Visitor Information Centre for $10 per day.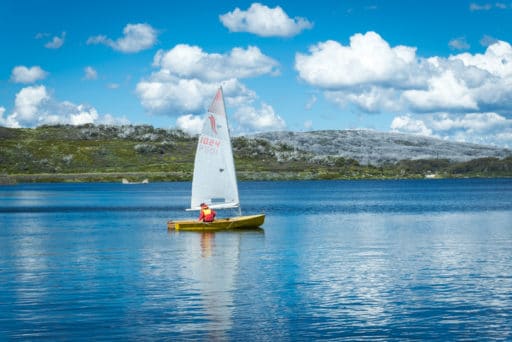 Bring the tinny or the dinghy along to launch into Rocky Valley Lake. There are boat loading ramps on either side of the dam wall and ample parking for trailers and cars. Motor boats are allowed to launch but are restricted to 10hp craft on the water. Please make sure after you launch you park your car and trailer responsibly.
Sign up for our newsletter
Want to hear the latest news and what's on at Falls Creek?
Sign up to our email newsletter and you won't miss a thing.