Landslide on Bogong High Plains Road
UPDATED 2/2/2022
You might have heard there has been a landslide on the road between Falls Creek and Mount Beauty, causing a whole lot of challenges for our community. We've put together this information to inform and update the larger community about how it's all going.
What has happened?
A landslide began on the Bogong High Plains Rd above Bogong Village in early October. The 35,000 cubic metre mass of earth above the road continues to shed loose debris and is unstable, with the crown continuing to expand daily, making it unsafe for the road to be open. The landslide is now being managed by the Department of Transport (DoT), and is no longer run by the ICC. The DoT will provide weekly updates which can be found here.
On Monday 30/1/23, Major Roads and Projects started taking over management of the site from Department of Transport.
Closure of the road between Falls Creek and Mount Beauty has greatly limited access to Falls Creek for its residents, workers and visitors causing many issues.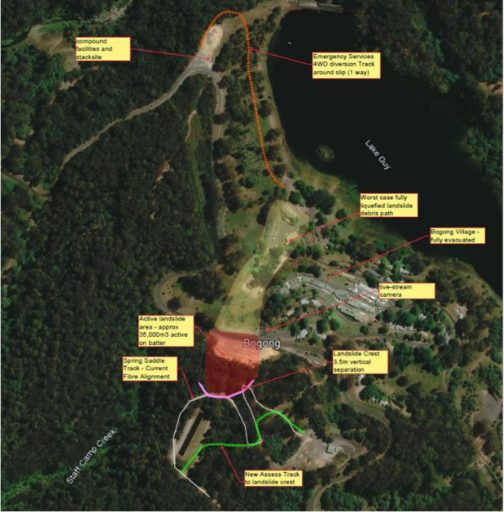 Landslide image 1. Note: The new access track pictured above is restricted to emergency services with authorisation being strictly controlled by the Incident Control Centre.
What is the Plan?
The main priority is human safety, so machines are being used to the extent of their capabilities.
Short-term goal: single-lane access for all users. Expected date March/April 2023.
Long-term goal: full road access. Expected date Summer 23/24.
Long-reach excavators are currently being used on the north and south side removing dirt and loading it into trucks to be taken away (the green and yellow zones in image 2).
A remote-controlled loader will be arriving soon to help move the earth from the more dangerous locations of the site (the red zone in image 2) where humans cannot go.
It is too unstable to dig from the top.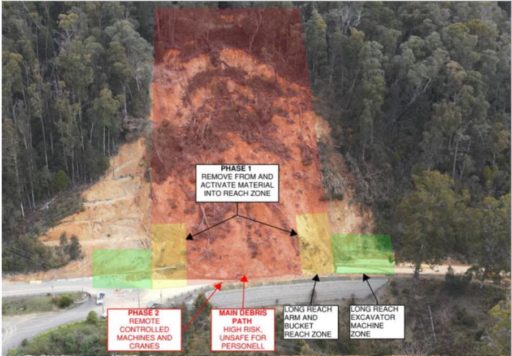 Landslide image 2
What solutions are being looked at?
A range of solutions are being considered to assist in expediting the remediation of the site, however until such time as engineers are able to access and assess the entire site, the gradual removal of debris is being undertaken as the safest alternative.
Can I still visit Falls Creek?
You can still visit Falls Creek but there are things to be aware of. The only route to access the village and resort is via the Omeo Highway and southern Bogong High Plains Road. This adds considerable time and distance onto your trip. Please check with your accommodation provider before leaving to ensure no last-minute change are needed. Come prepared with food while you are here and be prepared that emergency service responses may be compromised in the event of an emergency due to access constraints in place.
What is open in the village?
The village remains open for the summer; however, events until March have had to be cancelled or postponed due to the lack of services currently able to reasonably access the village.
St Falls 1550 Restaurant is open 7 days from 8am for breakfast and lunch
The Frying Pan Inn is open Wednesday – Sunday from 4pm for dinner
FoodWorks supermarket is open Monday – Friday 10 – 2pm.
Is the mountain bike park open?
The mountain bike park will remain partially open for the foreseeable future. However, we confirm that Bike Patrol will not be operational, and all riders must accept and expect delays in receiving medical treatment and emergency assistance in the event of a severe accident. There are no medical facilities within the village during summer, they must come from other towns.
Use of trails is subject to the following constraints
Access to Falls Creek is only via Omeo Highway
Ambulance Victoria response may be compromised in the event of an injury due to access constraints in place
Use of the trail network is at riders' own risk given the increased risk profile
Bike Patrol will not be operating
This page will be regularly updated.
Last updated 2/2/22.