EXPIRED: Immediate Evacuation Order for Falls Creek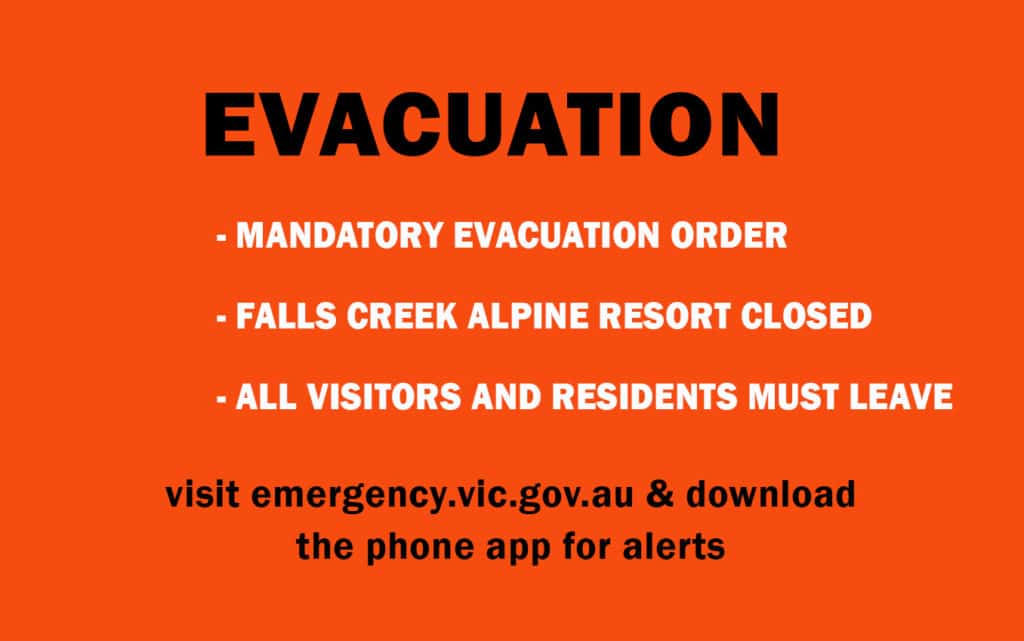 **THIS NOTICE IS NO LONGER CURRENT**
Falls Creek Resort Management (FCRM) wish to advise all stakeholders and residents that Falls Creek is currently under an EVACUATE IMMEDIATELY order.  This is an enforceable order and requires mandatory compliance.  More detail regarding this order can be found here: https://www.emergency.vic.gov.au/.
Please note the following key information in accordance with Falls Creek Emergency Management Plan:
All remaining persons in resort MUST leave immediately.  This is for your own safety.
Predictive fire mapping indicates a significant increase in risk for conditions tomorrow – DO NOT believe you will be safe.
Dry lightning is expected to further complicate response in the alpine regions tomorrow evening in combination with very hot and windy conditions.
Local CFA resources within Falls Creek are unlikely to have regional support due to the number of fires burning.  They cannot guarantee your safety under the forecast conditions.
The resort is now officially CLOSED to all access except emergency services.
All FCRM staff will be leaving the resort this evening.
Your evacuation route is via Bogong High Plains Rd to Mt Beauty ONLY.  Please move to a safer area, noting that Mt Beauty is also under Watch & Act currently.  If you have nowhere to go, the following relief centres are now open:
Wangaratta Performing Arts Centre (including area for pets at Wangaratta Showgrounds)
The Cube, Wodonga (118 Hovell St)
Please email [email protected] once you have left resort so that our contact sheet is kept current. FCRM will provide further updates as information becomes available.
Re-opening of resort access requires VicPol authorisation and closures may be in place for an extended period, possibly weeks.
It is very important you are using the Vic Emergency app on your phones with Falls Creek as your watch zone so you can stay up to date with all information as soon as it is issued.  Additionally listening to ABC Local radio is also advised.
Kind Regards
Falls Creek Resort Management