The Falls Creek Terrain Park Rating System has been developed to help all of our guests with Park Safety. This system uses clear graphic signs to grade the various aspects of the Park & Pipe features. It is very important that you familiarise yourself with these symbols and all other signage before riding any of the Terrain Parks.
The Freestyle Terrain Park Rating System outlines each level so you will understand the rating of the Park you are about to enter. Take time to review the symbols below and ensure you understand them.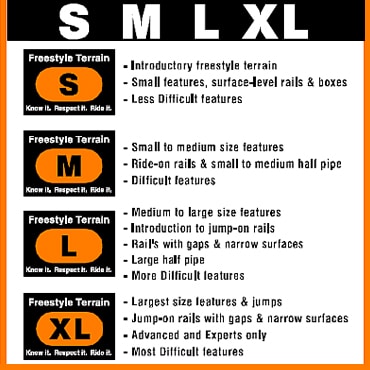 Whether at the Park or at the dinner table - bad manners are bad manners. To make sure everybody using the park has a good time it's important that riders pay exercise appropriate park etiquette. Ride like a fool and you're bound to upset other riders.
The Freestyle Terrain Snow Park Etiquette provides basic information to all users entering and/or using terrain park facilities. This contains important safety points on how everyone conducts themselves when in the Terrain Park area.
For your own safety and enjoyment and the safety and enjoyment of other Park users, follow the park etiquette outlined below:
Read & follow all park signs & warnings
Use features suitable to your ability & skill level
Start out with the smaller features and work your way up
Inspect the features before jumping
When inspecting or instructing in the park, be sure that you are out of the way of other users
Don't stop on the tops of jumps
Clear out the landing zones of the jumps quickly
Use spotters if the landing zone is not visible from above
Use visual signs (eg: crossed arms above head - NOT CLEAR & one arm wave - CLEAR)
Call for priority when waiting for your turn to use a feature (eg: "NEXT", "ON DECK" or DROPPING IN")
Speed judgment is important to landing in the "sweet spot" on a jump. Watch others, get advice or take lessons.
Remember, it is always your responsibility to ride or ski within your limits. Don't end your season early by trying tricks or features that are beyond your ability. The Alpine Responsibility Code outlines the 'rules of the road' for the slopes. You are accountable for your actions and violations. Play smart and safe
Know your ability and always stay in control and be able to stop and avoid other people or objects. It is your responsibility to stay in control on the ground and in the air.
Take lessons from qualified professional instructors, to learn and progress.
As you proceed downhill or overtake another person, you must avoid the people below and beside you.
Do not stop where you obstruct a trail or run, or are not visible from above.
When entering a trail or run or starting downhill, look uphill and give way to others.
When riding a chairlifts use the restraining devices. Always use suitable restraints to prevent runaway skiing/boarding equipment. Ensure your equipment is in good condition.
Observe and obey all signs and warnings. Keep off closed trails or runs and out of closed areas.
Before using any lift you must have the knowledge and ability to load, ride and unload safely.
Do not ski, snowboard, ride a lift or undertake any other alpine activity if your ability is impaired by drugs or alcohol.
If you are involved in, or witness an accident, alert Ski Patrol, remain at the scene and identify yourself to the Ski Patrol.
Failure to observe the Alpine Responsibility Code may result in cancellation of your ticket by the Ski Patrol or other authorised personnel